Why Material Hoist?
Material hoist have been designed to cater for a range of load capacities, including up to 3,700 kilograms.
Our hoists have lifting heights up to 100 metres, making them not only the practical option, but the flexible one as well.
Hoists are easily assembled and can withstand the most severe weather conditions.
Material hoist are ideal for fixing to scaffolding.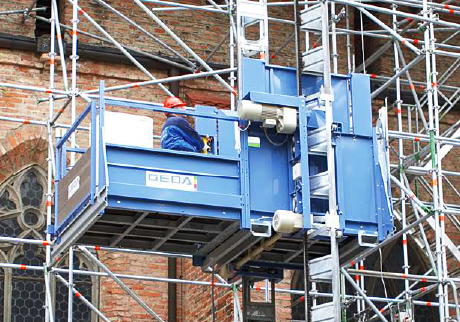 | SALES - PRODUCTS | RENTAL - PRODUCTS | TYPE | DIMENSION | CAPACITY | RANGE OF OPERATION (Levels) | DOWNLOAD PDF |
| --- | --- | --- | --- | --- | --- | --- |
| GD 200 Z | | Materials Hoist | 1.40 x 0.80 | 200kg | 25 m/min | |
| GD 300 Z | | Materials Hoist | 1.40 x 0.75 | 300kg | 20 m/min | |
| GD 500 Z | | Materials Hoist | 1.60 x 1.40 | 500kg | 30 m/min | |
| GD 500 Z Duo | | Materials Hoist | 1.60 x 1.40 | 500kg | 30 m/min | |
| GD300 Z/ZP | | Materials Hoist / Transport Platform | 1.35 x 0.85 | 300kg | 12 m/min | |
| GD500 Z/ZP | | Materials Hoist / Transport Platform | 1.60 x 1.40 | 500-850kg | 12-24 m/min | |
| GD1200 Z/ZP | | Materials Hoist / Transport Platform | Various lengths | 1000-1500kg | 12-24 m/min | |
| GD1500 Z/ZP | | Materials Hoist / Transport Platform | Various lengths | 1500-2000kg | 12-24 m/min | |
| GD3700 Z/ZP | | Materials Hoist / Transport Platform | Various lengths | 3000-3700kg | 12-24 m/min | |